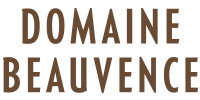 Mediterranean
Protected Geographical Indication
This blend of Grenache and Syrah, aged in barrels, results in a wine that is silky and subtle, with a fresh flavour thanks to the altitude of the vineyard.
This cuvée, l'Aparté, is characteristic of this blend. The grapes are harvested by hand and destemmed before undergoing a process of semi-carbonic maceration lasting three weeks, to release all the flavours. The entire vinification process takes place in barrels for at least twelve months, to achieve a silky wine with spicy notes of dark fruits.
Buy